Greetings Prospect Families. Due to current weather conditions we will have a two hour delayed start tomorrow morning Tues., December 14. All bus routes will run two hours later than normal. School will begin at 10 am. Breakfast will not be served. Morning preschool is canceled. The 4th/5th grade field trip is canceled. Please send your students to school dressed appropriately for the weather.

Tonight's school board meeting is canceled and rescheduled for Weds., Dec. 15 at 6pm in the school media center.

Greetings Prospect Families. Due to the current weather conditions, we are releasing all students at 2:30pm. Please adjust your student's bus dropoff time accordingly. Also be aware that full buses and weather conditions may cause additional delays. All after school activities are canceled.



Fri., Dec. 10, 930a-1230p: FREE COVID Mobile Vaccination Clinic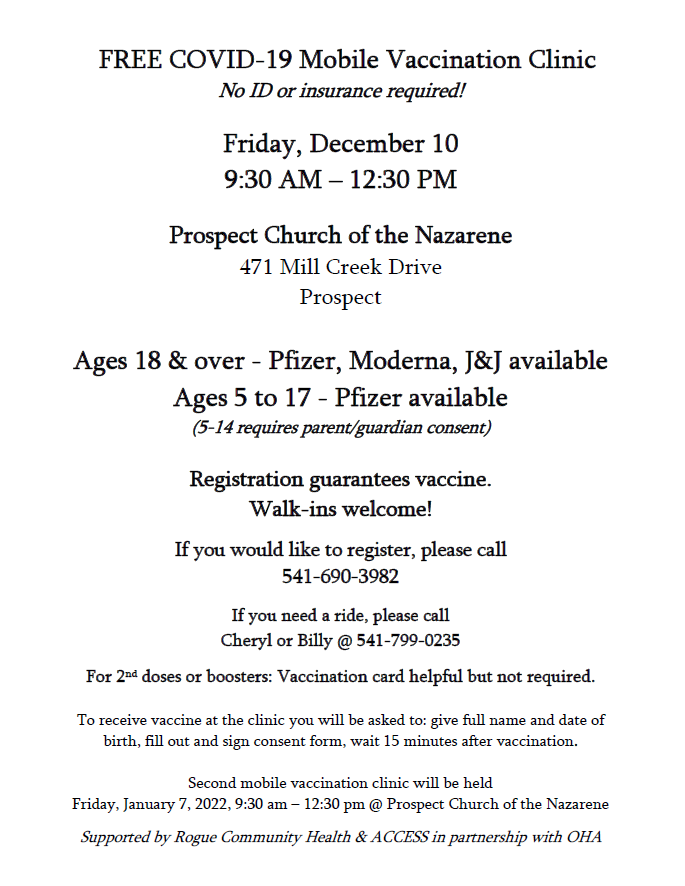 Parent Conference Survey: PCS recently held Fall conferences, your feedback is important to us. We will use your feedback to improve the conference experience. Thank you for being a part of the PCS community!
https://www.prospect.k12.or.us/article/588562




Greetings Prospect Charter School Parents, Thank you to those of you who have scheduled conferences. If you have not yet had a chance, we ask that you do so by the end of the day tomorrow. Scheduling and instructions are available on the school website. If you need assistance in scheduling please call the school office. Our goal is 100% participation in conferences this year.

Attn. Seniors and Parents: College Night has been rescheduled for Monday, Nov. 15 at 5 P.M. Sorry for any inconvenience.

Just received word that one of the buses wouldn't start this morning so the other two buses are working together to pick up all of the students. Pick up times may be delayed. Sorry for the inconvenience.


Greetings Prospect Charter School Parents, This year we are going to use Google Calendar Appointments for scheduling conferences. This is a great way to do it because you are able to choose conference times that work best with your schedule. Please visit the school website for instructions and scheduling. Our goal is 100% participation in conferences this year. We kindly suggest that you schedule your appointment by the end of this week as we expect time slots to fill up fast. If you do not have access to the internet, please contact the school for assistance in scheduling. Scheduling link and instructions:
https://www.prospect.k12.or.us/page/conferences