Greetings Prospect Charter School Families, Due to weather conditions, all students will be released from school at 3pm today, Monday, Feb. 27, and all after school activities are canceled. We will also be having a 2 hour delayed start tomorrow, Tuesday, Feb. 28. All bus routes will run two hours later than normal and school will begin at 10 AM. Breakfast will not be served. Morning preschool is cancelled. Please send students dressed appropriately for the weather. Elementary students should bring snow gear and be prepared for outside recess. If weather conditions require school to be canceled tomorrow, families will be notified by 7 AM. Thank you for your continued support.

Reminder: Missoula Children's Theatre auditions are tomorrow morning! Bring your permission slips!

Due to weather school and all school activities are canceled tomorrow, Thurs., Feb. 23.

Due to the forecasted weather, school is canceled tomorrow, Weds., Feb. 22.

Due to weather uncertainty, the Winter Sports Banquet has been rescheduled for Thurs., Mar. 9 at 5:30 pm in the MPR. Come celebrate our student athletes! All dinner/dessert proceeds benefit the senior class! The fall sports banquet was so much fun, don't miss out! Dessert donations are very much appreciated! Thanks for your continued support!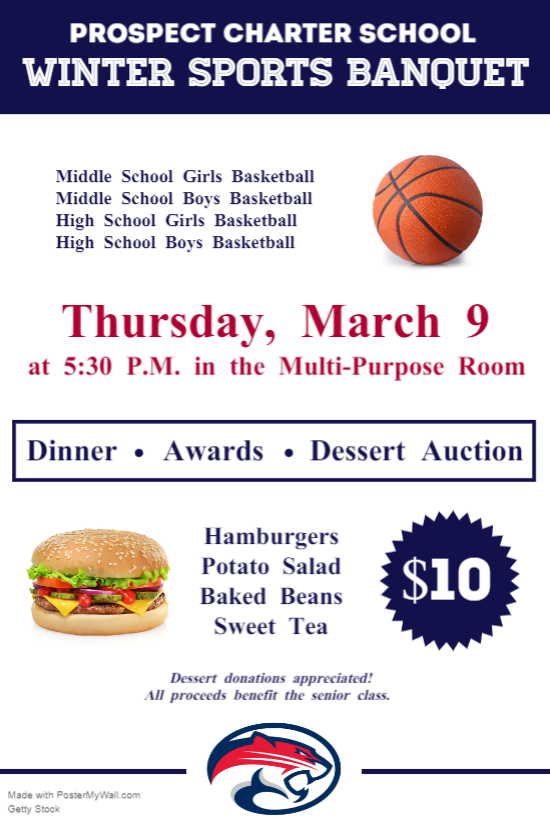 Dear Prospect friends, parents, and neighbors… we have been in contact with the National Weather Service and it is predicted that our area will gain several inches of snow over night with lows to touch 23 degrees which makes for freezing dangerous travel conditions… we are going to cancel School on February 14th… by making that decision this evening, parents can plan accordingly… stay safe and warm on Valentine's Day!

Friday is Senior Night in the gym! JV at 4pm, varsity at 5:30pm, senior recognition between games. GO COUGARS!


Next week is Spirit Week in the high school! Friday, 2/10, the boys basketball teams play against Central Christian, boys jv at 4pm, boys varsity at 5:30pm. Senior athletes will be recognized between the games. GO COUGARS!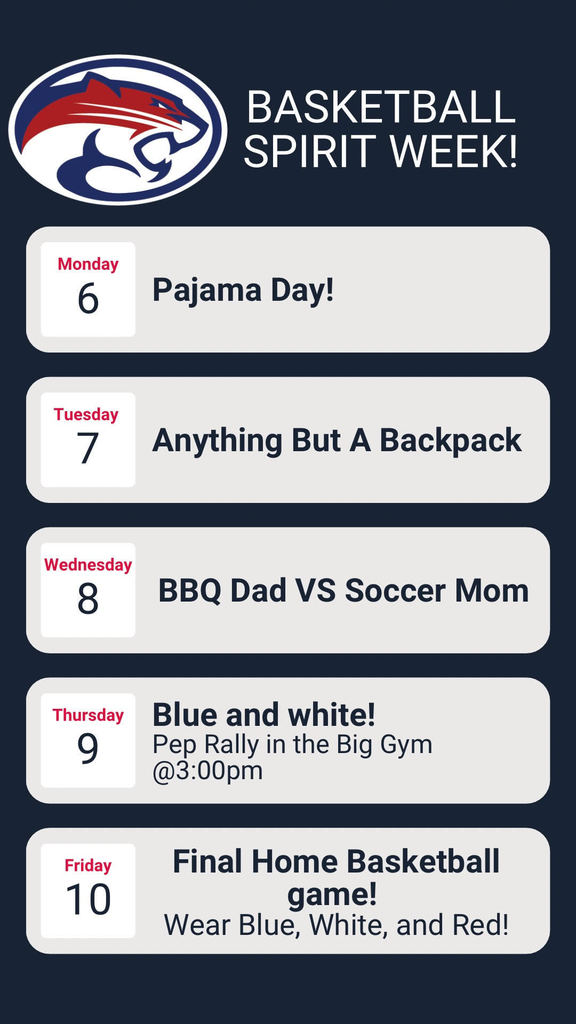 Join us Saturday, 2/4 at 1:30 P.M., for high school boys varsity basketball vs. Oakridge and a special cheer camp performance. Wear black!

Tonight's basketball games against Bonanza will have a Hawaiian theme...games start at 5:30pm. GO COUGARS!



Unfortunately the remainder of the high school girls basketball season is canceled due to injury. This has created several changes in the high school boys basketball season. Please use this link for the most up to date schedule
https://www.osaa.org/teams/47487

REVISED Announcement: We will be releasing all students at 3pm due to weather. All afterschool activities are canceled.

SAVE THE DATE! Prospect School is hosting Casa Amiga's Taco Truck on Feb. 2 at 5:30pm. There will be tacos, student entertainment, and a presentation regarding plans for school improvement. Students and their families, school staff, and community members are all encouraged to attend!

The high school girls basketball game is cancelled tomorrow, Jan. 14. Boys JV play 2 quarters only starting at 1230pm, followed by boys varsity at 130. See you in the gym!


Wear camo to the games this weekend, Saturday, 1/14, 2 quarters of boys jv beginning at 1230pm, followed by girls varsity at 130pm, and boys varsity at 3pm.