Middle School Volleyball Serve-A-Thon Fundraiser: Next week during practices Oct. 4-7, each player will be serving a total of 50 serves. Players will gather pledges for each successful serve or in a set amount if donors prefer. If you would like to make a pledge see a middle school volleyball player or email
reneeb@prospect.k12.or.us

Our Cheer team has planned some upcoming 50/50 Raffle fundraisers. Tickets will be $1 each or 6 for $5. Please bring cash to the following games to support the cheer team: HS VB 10/7, HS FB 10/8, HS VB 10/19

Greetings Prospect Charter School Families, Beginning Monday, Oct. 4, all morning bus routes will run 10 minutes later than previously scheduled. This is a permanent change. The schedule on the website has been updated accordingly. Thank you and have a great day.

Rough go for our middle school football team. Saturday's game has been canceled by North Lake. We are working on figuring something else out for this week...


Greetings Prospect Charter School Parents, Middle school football and volleyball practices are both cancelled today, Weds., Sept. 8th. And middle school volleyball practice is cancelled tomorrow as well, Thurs., Sept. 9th. Sorry for any inconvenience.


Greetings Prospect Charter School Families, What great first 2 days of school! Thank you to all of our families for sending your students prepared and ready to learn. Please note, devices and device handbooks have been issued. We ask that you review the device handbook, complete both sides of the pink page for EACH of your students, and return them to the school office by Thursday, Sept. 2. Don't forget to send payment in the form of cash or check for the optional device insurance if you choose to purchase it. You can send these back to school with your student or, if you prefer, drop them off in the school office yourself. Please call the school office with any questions or concerns. Thank you and have a great evening.



HS volleyball car wash: Sun., Aug. 22, 10am-3pm, school parking lot, by donation!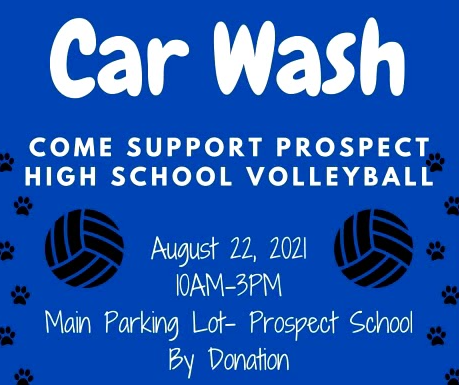 Middle school football practice will begin on Monday, August 23, at 430pm. Please note, Sports physicals are required every other year, in order to participate your student must have a current sports physical on file in the school office. All practices next week will be voluntary, mandatory practices will begin Aug. 30. For more information call coach Keith Howard at 541-816-1943. Information regarding middle school volleyball will be coming soon.


If you were child was unable to do the Camp Invention in person option recently we are happy to share a new opportunity where we can ship the hands on materials directly to them at no cost. We are excited to share that due to a generous donation from Oregon Community Foundation, there is an opportunity to bring the Camp Invention hands-on programming directly to Southern Oregon students entering K-6th grade in Prospect for FREE the week of August 30-September 3th! It's the perfect opportunity for students to engage in a final summer enrichment opportunity before starting the school year through materials being shipping directly to their homes. Then they can engage with friends virtually on teacher facilitated virtual sessions or choose to pace the projects on their own with activity guides and a supporting landing page. Here's a peak at the Camp Invention-Recharge remote program in action! Spots are limited on a first-come, first served basis. Don't delay, and reserve your child's spot as soon as possible at Southern Oregon Camp Invention Sign-up The registration deadline is August 16th or when spots are full.



Enrollment Event: Thursday Aug. 12, 6:30pm-8pm at the Upper Rogue Community Center, Shady Cove.


This is a reminder that elementary summer school will be Aug. 9-12 and Aug. 16-19, daily from 9am to 2pm. Masks will be required indoors and lunch will be served. Please send students with a water bottle. There will be a bus available for families who have requested it, the route is posted in the News section of our website. If you have questions or if your student is not currently signed up and would like to attend, please call the school office. Thank you and have a nice day.